Caregiving
Jump to navigation
Jump to search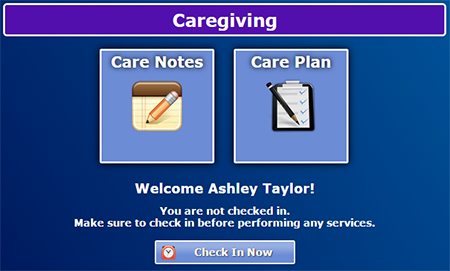 The "Caregiving" button gives caregivers access to two system features, Care Notes and the Care Plan.
These features can only be utilized by caregivers with a Caregiver PIN.


Caregiver Check In
Caregiver Check In is a touchscreen feature for on-site caregivers. It allows them to establish their on/off duty time as well as identify themselves to access the caregiving features of the system.
See Caregiver Check In for more information.

Care Notes
Care Notes are a way for people in the caregiving network to exchanges messages and notes about the resident. These notes are designed to be seen by caregivers, and not by the resident, for those situations in which the notes include sensitive information that would be better not to be seen by the resident. (Other features of the system, Messages and Letters, are designed for communication between the caregivers and the resident.)
See Care Notes for more information.

Care Plan
From the touchscreen caregivers can utilize the Care Plan to track specific care tasks called "Services", by checking them off as they are performed. Services can only be checked off for the current day. Services can be added within specified times in which they should be performed, or can be set to "Any Time".
See Care Plan for more information.
GC-01-OUM-0034, Rev C