Group Users
Jump to navigation
Jump to search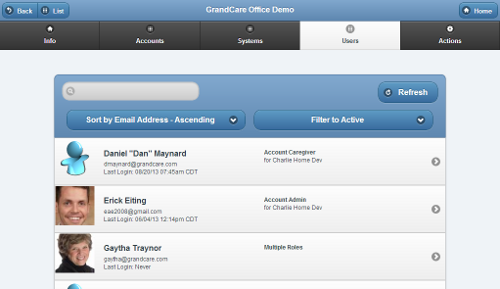 Overview
Click the "Users" tab to see, and manage, the list of the Users related to the Group. This includes users with the role of:
Group Admin, Group Caregiver, or Group Communicator for the Group;
Account Admin, Account Caregiver, or Account Communicator for one or more Accounts in the Group;
Resident Admin, Resident Caregiver, or Resident Communicator for one or more Residents of an Account in the Group.


User Functions for Groups
Manage Users - The Users are listed in alphabetical order by email address. Click on a User to see more information about him or her, and to have access to the Manage Users functions.
Sort - Click the "Sort" button to change the order in which the list is sorted. You can re-order the list by First Name (highest to lowest, or lowest to highest) or Last Name.
Asc = Ascending (lowest to highest)
Desc = Descending (highest to lowest)
Filter - Click the "Filter" button if you want to show a list of all Users for the group, or a list of only the active Users. You may also filter the list to see only disabled Users, Users who have not logged in for at least 30 days, or Users who have never logged in.
Search - To search for a particular User, enter a full or partial name or email address into the textbox, and then click the "Refresh" button or press the [Enter] key.


GC-01-OUM-0063 Rev A