Medication
Jump to navigation
Jump to search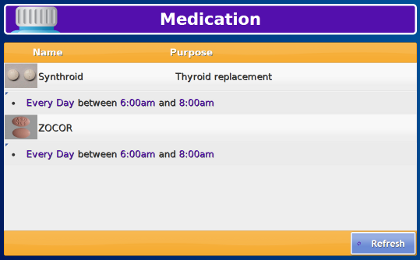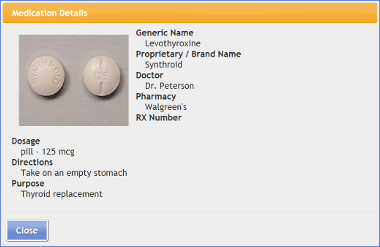 Medications
You can view a list of your medications on the screen, with a picture of each medication, and when it should be taken.
You can also receive pop-up reminders on screen when it is time to take medication. Information about each medication and when to take it is added to your system by your caregivers.


Viewing More Details
Press on any medication in the list to see more details about it, which can include a picture. Press the "Close" button when you are finished.


Reminders
After one of your Caregivers has added your medications and their schedules, you will receive an on-screen reminder when it is time to take medication. A list will appear on screen of the medications that should be taken at this time. Press the appropriate button to indicate whether you took the meds scheduled for this time.

Press the "Done Taking Meds" button when you have taken the medication, to close the reminder, until the next scheduled time.

Press the "Remind Me Later" button, if you want a new pop-up reminder for the same medication to appear 15 minutes later. (Toward the end of the scheduled period this button won't be offered.)

Press the "Refuse Meds" button, if you won't be taking the meds during this scheduled time.