Difference between revisions of "Touchscreen and Social Features"
Jump to navigation
Jump to search
Line 20:
Line 20:

[[Touchscreen Main Menu]]<br /><br />

[[Touchscreen Main Menu]]<br /><br />






For more specifics about how to set rules and under what conditions, and what the graphs can show, please see the help pages for each sensor type.

the

the .
---
Revision as of 20:12, 10 July 2017
| | |
| --- | --- |
| | From letters and photos to video calling and websites, GrandCare has many features for interacting with family and professional caregivers. Just took a cute photo of the kids? Send it to mom right from your smartphone. Find a fun youtube video? Put it right on the GrandCare touchscreen. Then send a message to tell your loved one that something new is waiting for them. Or just place a video call so you can catch up in person. |
Communication Features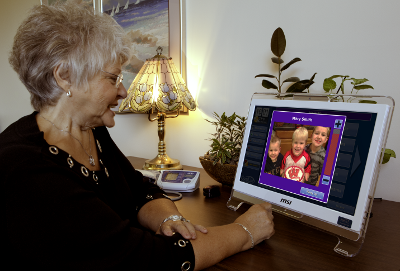 :
- Place or receive a video call to the touchscreen from your computer or smartphone.
- Add specific websites to the GrandCare touchscreen.
- Send a letter to the touchscreen and receive a response. It's as easy as email, but better.
- Upload slideshow photos directly from your PC or with GrandCare Mobile


Customizing the Touchscreen
Using the Touchscreen
Using the Touchscreen - Residents access all the features of the system using the pushbuttons on the touchscreen.