Add Z-Wave Devices
Jump to navigation
Jump to search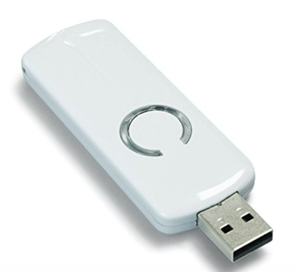 Adding Z-Wave Devices with a Z-Stick
Setting up Z-Wave devices is done primarily at the Touchscreen System, but requires some additional configuration at the Care Menu.

At the Touchscreen System:
Before you can add devices, you must install the Z-Stick
Disconnect the Z-Stick from the system
Press the blue-ringed button on the stick for two seconds to put it in Delete Mode – rapid blink (On the Gen 5 Z-Stick the LED will blink orange.)
At the first device, press the button on the device to delete it from the stick. Do this even if you have not added the device to the stick yet.
Press the blue-ringed button to turn off delete mode, then press the button again to put the Z-Stick in Add Mode – slow blink
At the same device, press the button on the device to add it to the stick – the blue ring will go solid.
Repeat the previous 4 steps for each device
Plug the Z-Stick back into the system
On the touchscreen:
Press the System (Gear) button
Enter the 4-digit System PIN (which is set, and can be viewed, on the Advanced Settings screen in the Care Menu)
Press "Devices"
Press the "Scan Zwave Network" button - the scan will start automatically
Some devices may show up as "Unknown Device" - these may have gone back to sleep. Press the program button on the device again, then click the Unknown Device on the Devices screen, and click the "Rescan" button.
At the Care Menu:
Open the Care Menu
Open the appropriate module
For motion, door, bed sensors, open the Activity module (Note that all contact sensors, whether for a door or bed) will initially appear as a door sensor, until you select the correct type)
For action buttons, open the Notifications module
Click the gear-shaped "Configure This Device" button to the right of the appropriate sensor
For contact sensors, select the proper type, then enter a Location and Description, if requested, for the device. (Note that the description is used in automated alert phone calls, so the description should not be technical.)
Click the "Next" button, which saves the configuration