Brain Exercises
Jump to navigation
Jump to search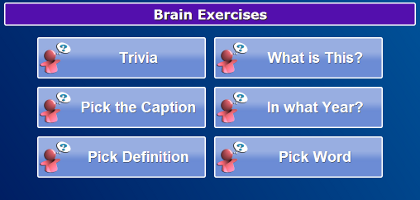 Brain Exercises
Press Brain Exercises on the Main Menu to display six different brain exercise games to play.
Trivia - Answer questions on history, sports, science, entertainment and geography.

What Is This? - What Is This? - Identify photos of buildings, landmarks, paintings, or animals.

Pick the Caption - Identify the names of family photos that have been added to the system by your caregivers.

In What Year? - Name the year that news-worthy events happened.

Pick Definition - Pick the correct definition for the word shown.
Pick Word - Given a definition, pick the correct word.