Difference between revisions of "Analytics"
From GrandCare Systems
---
Revision as of 17:18, 28 October 2014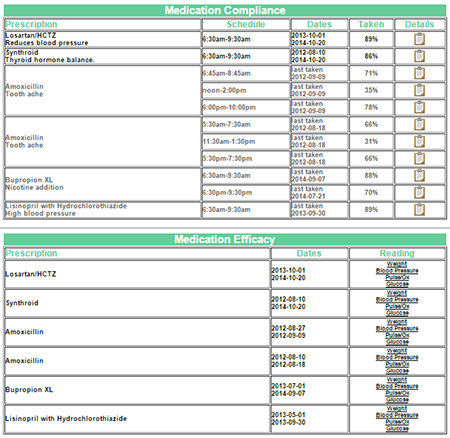 Caregivers can view analytic data about medication compliance rates and the effects medications may be having on recorded wellness readings.


Viewing Medication Analytics
Log into the Online Care Portal and open the Care Menu.
Click the "Analytics" button.

Medication Compliance
The medication compliance feature displays basic information on each of the resident's medications, including the prescription name, scheduled times, active dates, and percentage of compliance.

The details button can be clicked to display the following information:


Medication - The full medication name.
NDC - The NIH (National Institutes of Health) NDC (National Drug Code) ID
Medication class - NIH medication classification
Reason - Reason resident is taking medication
Medication Status - Active or Inactive
Start Date - When medication was added
End Date - When medication was last active
Schedule - Scheduled times medication is to be taken
Average Time - Average time medication is taken
Compliance - Amount of times, percentages, and calendar overview of compliance (Taken/Not Taken/Refused)

Medication Efficacy
The medication efficacy feature provides information on how each of the resident's medications is affecting their health readings.

Click the reading type next to each medication to view:


Medication - The full medication name
NDC - The NIH (National Institutes of Health) NDC (National Drug Code) ID
Medication class - NIH medication classification
Reason - Reason resident is taking medication
Medication Start Date - When medication was added
Periods - Current period of time being calculated, as well as the period before and after
Reading - Displays any changes in health readings for the specified period

GC-01-OUM-0084, Rev A