Away Mode
Jump to navigation
Jump to search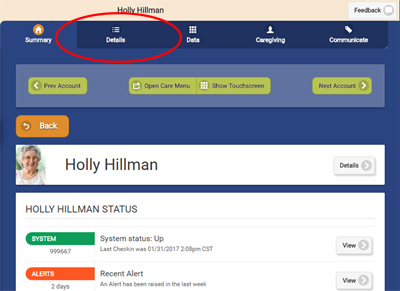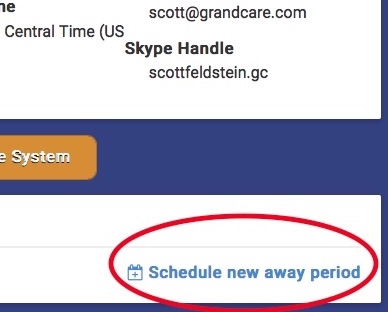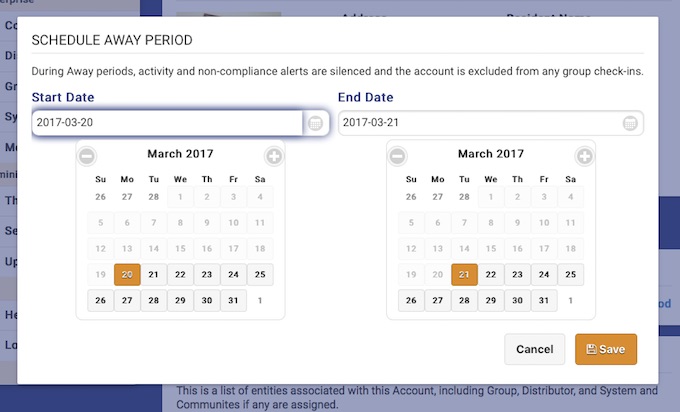 Overview
Caregivers can set alerts for activity sensors, health devices, and medications. But what happens to the alerts when the resident is away from home? To help caregivers avoid a flurry of spurious alerts, you can put the system into "Away Mode." It silences text, email and phone call alerts when the resident is away from home. Whether the resident is visiting relatives or being cared for in the hospital, your caregiving team will be free of false alarms. Away Mode silences most external alerts. Exceptions include telehealth readings out of range and other health and safety-related items.
Away Mode is especially useful in communities which utilize Group Check-in, as it excludes Away Mode accounts from the list of accounts who failed to check in that day.
Activating Away Mode
Log in to the Online Care Portal
Select the Account
Open the Details tab
Click "Schedule new away period"
Select start and end dates
Click Save

When Away Mode is set, on the Dashboard, the "Away Status" appears on the Account.