Battery Tips for Sensors
Jump to navigation
Jump to search

Your sensors require batteries to operate. You can check current battery levels using the Battery Reporting. You should find changing batteries to be fairly straight-forward, but here are a few tips to help you.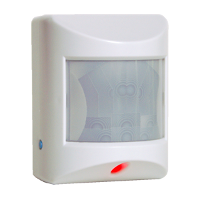 Z-Wave Motion Sensors
The Z-Wave Motion and Temperature Sensor (Model HSM100) takes 3 AAA batteries. (We recommend long-lasting lithium batteries.) You can pull off the back of the sensor after lifting the little plastic tab located near the light. When you have finished replacing the batteries, press the little blue button on the side of the sensor.


Inovonics Sensors
The High-Traffic Inovonics motion sensor has a replaceable battery, but there is a small cable that must also be unplugged and plugged, which may be surprising. This video shows you have the battery can be removed, and how a battery can be added. A source for batteries is: http://www.inovonics.com/batteries.aspx.

<mediaplayer>File:InovonicsBatteryChange.mp4</mediaplayer> (May take a few moments to load before starting)


The following is a list of supported Inovonics sensors, and the model number for their batteries:

| | | | | |
| --- | --- | --- | --- | --- |
| EN1223S |   | Single-Button Water-Resistant Pendant Transmitter |   | CR2450 |
| EN1210 |   | Single-Input Universal Transmitter |   | 123A |
| EN1265 |   | 360° Ceiling-Mount Motion Detector |   | 2 x 123A |
| EN1261HT |   | High-Traffic Four-Element Motion Detector |   | BR-AG |
| EN1262 |   | Motion Detector with Pet Immunity |   | 123A |
| EN1723 |   | Dual-Input Temperature Transmitter |   | 123A |
| EN1210W |   | Door/Window Transmitter with Reed Switch |   | 123A |
For Battery Safety Precautions, see the Safety Precautions Page