Community Messages
Jump to navigation
Jump to search
Overview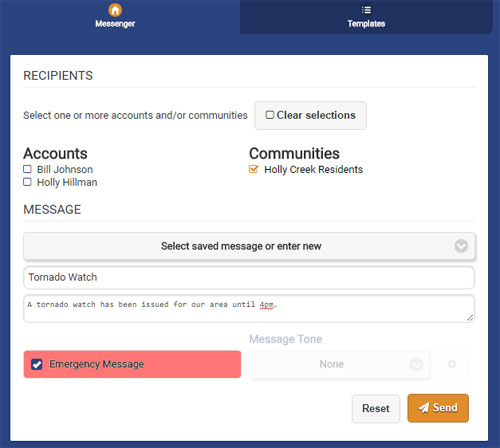 Messages can easily be sent to individual Residents or to an entire Community, using the Community Messages feature. It's like sending a text message from the community to the system screens of Residents within the Community. The message appears as a pop-up on the Residents' screens, and remains visible until it's acknowledged by the Resident. Note: You do not access Community Messages from the Communities button. Instead, you must click Message Center on the left-hand navigation menu.
Sending a Community Message
Log in to the Online Care Portal
Select Message Center
Select the checkbox for individual Residents or the whole Community
Enter a subject heading for the message, and the body of the message itself
If you'd like to include an audio tone when the message is delivered, choose one from the list
Select the Emergency Message setting, if applicable - an alarm tone will sound when the message is delivered, and a red "Emergency Message" title will appear on the message.
Click the Send button
Receiving a Community Message

The message pops up on the designated Residents' screens, and remains there until it is acknowledged, by pressing the Acknowledge button. Or press Remind Me Later to temporarily remove the message and have it pop up again a short time later.