Distributor Systems
Jump to navigation
Jump to search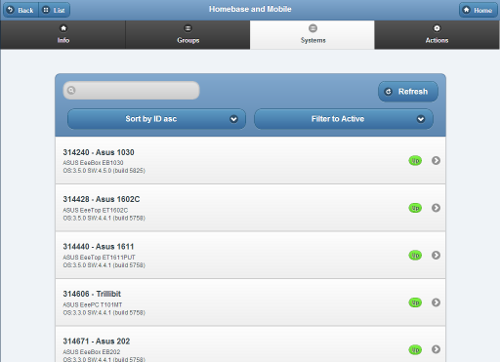 Click the "Systems" tab to see, and manage, the list of the Systems in any Group under the Distributor.


System Functions for Groups
Manage Systems - The Systems are listed in reverse numerical order (newer Systems at the top of the list.) Click on a System to see more information about it, and to have access to the Manage Systems functions.
Sort - Click the "Sort" button to change the order in which the list is sorted. You can re-order the list by System ID number (highest to lowest, or lowest to highest), hardware model, operating system version, or software version on the System.
Asc = Ascending (lowest to highest)
Desc = Descending (highest to lowest)
Search - To search for a particular System, enter a full or partial System number or Account name into the textbox, and then click the "Refresh" button or press the [Enter] key.
Filter - Click the "Filter" button if you want to show a list of all Systems, or a list of only the Systems with a particular system status, e.g. Active, Updateable, Up, Down, Inventory, Disabled, Remote.