Reports
Jump to navigation
Jump to search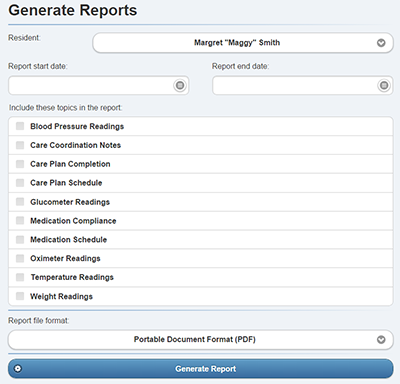 Reports can be created based on wellness device readings, caregiver activity, and medication.

The Resident's full name and DOB (Date of Birth) appear at the top of every report.


Available Reports
The following reports are available:
Blood Pressure Readings - Systolic and diastolic readings, pulse, and Mean Arterial Pressure (MAP)
Care Notes - Dates, creators, and note content
Care Plan Completion - The time, date, and completion statuses of Care Plan services
Care Plan Schedule - A list of the services in the Care Plan
Glucometer Readings - Readings and notes
Medication Compliance - A list of scheduled doses, and if they were taken
Medication Schedule - A daily list of medications and their scheduled times
Oximeter Readings - SpO2 and pulse readings
Temperature Readings - A list of readings
Weight Readings - A list of readings
Generating Reports
All report types can be accessed at one location on the Online Care Portal
Log into the Online Care Portal.
Click on the System Account" button to open it.
Click the "Generate Reports" button.
Ensure that the proper resident is selected.
Select a start date and an end date.
Select the check box next to each of the topics you would like included in the report.
Select the report file format (PDF or CSV).
Click the "Generate Report" button.
GC-01-OUM-0007, Rev E