Touchscreen PINs
Jump to navigation
Jump to search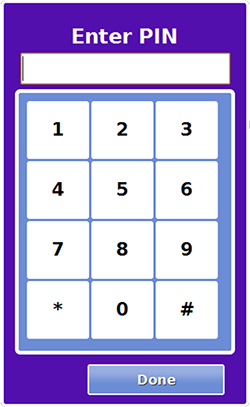 The touchscreen uses 4-digit PINs in a variety of ways to secure information. There is a System PIN which secures access to settings on the touchscreen, and a Caregiver PIN which gives caregivers access to the caregiving features on the touchscreen.


System PIN
This PIN is used to access System Settings from the touchscreen and is enabled by default. The default system PIN is '1111' or '1234'.


To edit the System PIN:

Open the Care Menu from the Online Care Portal.
Click the "Touchscreen" button.
Click the "Options" button in the upper right-hand corner.
Enter the desired PIN number in the "PIN" field.
When you are finished with the settings, click the "OK" button to save.
This PIN can be enabled or disabled by through the "Require PIN?" checkbox.

Caregiver "User" PIN
This PIN allows caregivers to Check In and Out at the touchscreen, and access Care Notes and Care Plans. Each Caregiver must have a PIN to access these features of the system.


To add or edit a Caregiver PIN:

From the Online Care Portal, click the "Manage Users" button.
Select the Caregiver (User) you would like to edit.
Click the "Actions" tab at the top of the page, and click "Edit this User".
Enter the desired PIN number in the "Touchscreen PIN" field.
When you are finished, click "Save User" at the bottom of the page.
GC-01-OUM-0079, Rev A