Wellness Options
Jump to navigation
Jump to search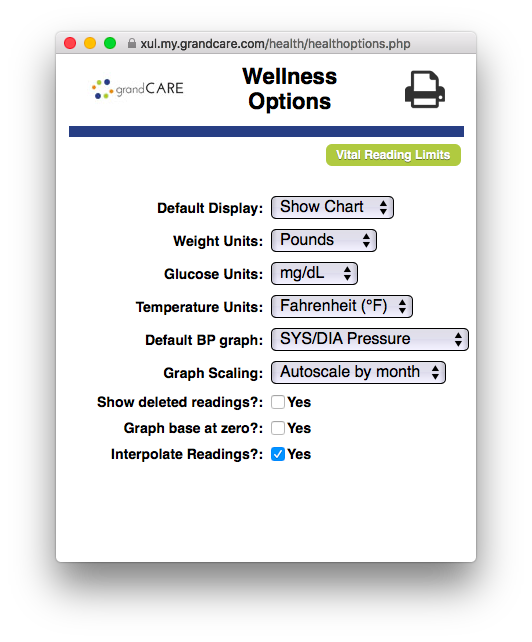 The Wellness Options allow you to control the display settings for reviewing wellness readings.


Available Settings
The following settings are available from the Care Menu:
Default Display - Choose between a chart or graph view
Weight Units - Pounds, kilograms, or stones
Glucose Units - mg/dL or mmol/L
Temperature Units - Fahrenheit (°F) or Celsius (°C)
Default Blood Pressure Graph - SYS/DIA, systolic pressure, diastolic pressure, mean arterial pressure, or pulse rate
Graph Scaling - Autoscale by month, or autoscale all
Graph at Base Zero - Change the scale of the graph for more details
Interpolate Readings - Fill in skipped readings on the graph to visualize trends

Vital Limits
Vital limits can be used to create Wellness Notifications and Acknowledgements.
Both a minimum and maximum value can be entered for the following wellness readings:
Weight
Systolic blood pressure
Diastolic blood pressure
Mean arterial pressure
Pulse rate
Blood oxygen saturation
Body temperature

Accessing Wellness Settings
Log into the Online Care Portal and open the Care Menu.
Select the "Wellness" button.
Click the "Options" button.
GC-01-OUM-0083, Rev A