Battery Reporting
From GrandCare Systems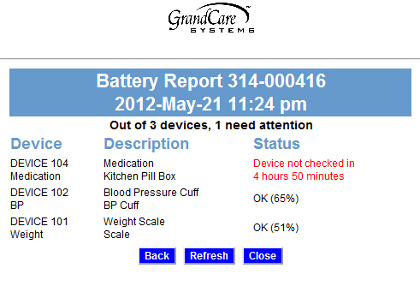 Most supported wireless devices are designed to report their battery levels to the system. You can check on the battery levels from any Internet-connected computer through the Online Care Portal. You should check this battery report often to know when device batteries need replacement.


How to Run the Battery Report
Open the Care Menu from the Online Care Portal.
Click the "Settings" button.
Click the "Devices" link.
Click the "Battery Report" button.

The Battery Report is automatically updated once daily. You can click the "Refresh" button to force the report to update.
Understanding the Report
If the batteries are dead, the status message displays in red, and shows how long it has been since the device has reported in to the system.
Some devices provide their exact battery levels. When the batteries are good, those devices will have the status "OK" plus the battery's current level.
Some devices don't provide their exact level. Those devices only show "OK" when the batteries are still good.
A few devices don't provide their battery levels at all. Those devices have a status of "Not checked."