Difference between revisions of "Video Calling"
From GrandCare Systems
---
Revision as of 17:18, 7 July 2017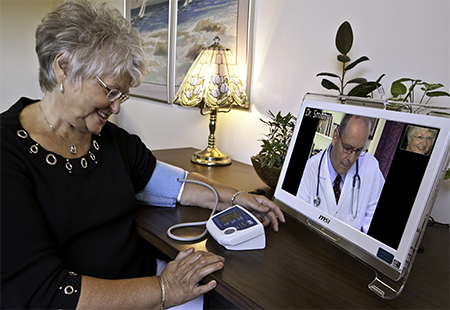 MediKall™ is a HIPAA-compliant video chat platform. These video calls are placed to the system directly through the Online Care Portal and are secured to protect resident data. Anyone who would like to have a video chat with the resident needs to be a User on the Online Care Portal.
MediKall Video Chat
You must be logged into the Online Care Portal in order to make, or to receive a video call. Make sure that your computer volume is not muted, and that you have a working microphone and web cam on your computer.
Through MediKall, you can call residents or other caregivers who are logged into the Online Care Portal.


Before You Begin

---

For quality purposes, Google Chrome® or Mozilla Firefox® web browsers should be used for MediKall video chats.
The first time you place a call to the touchscreen, your browser will ask for your permission to use your web cam and audio. You must select "Allow" or "Yes" to continue.
Important:
Without a webcam or audio connection the call will automatically fail.
Placing a Call from the Online Care Portal

---

Log into the Online Care Portal.
Select the appropriate Account.
Click the "MediKall" button.
Select the Person you would like to call. This will automatically place the call.
The Resident: Making a Video Call From the Touchscreen
The resident uses the "Video Call" button on the touchscreen to make a video call.
GC-01-OUM-0082, Rev A