Video Calling
From GrandCare Systems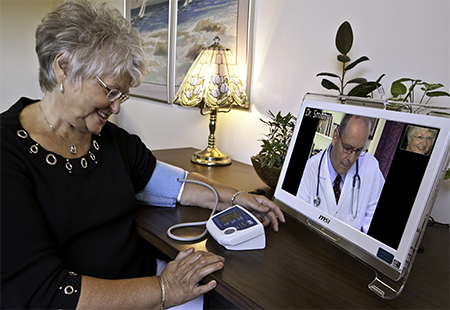 GrandCare's Video Calling is a HIPAA-compliant video conferencing platform. These video calls are placed to the system directly through the Online Care Portal and are encrypted to protect privacy. Anyone who would like to have a video chat with the resident needs to be a User on the Online Care Portal.
Making a Video Call
You must be logged into the [[Online Care Portal] in order to make, or to receive a video call. Make sure that your computer volume is not muted, and that you have a working microphone and web cam on your computer.
Before You Begin

---

For quality purposes, Google Chrome® or Mozilla Firefox® web browsers should be used for video calls.
The first time you place a call to the touchscreen, your browser may ask for your permission to use your web cam and microphone. You must select "Allow" or "Yes" to continue.
Important:
Without a webcam or audio connection the call will automatically fail.
Placing a Call from the Online Care Portal

---

Log into the Online Care Portal.
Select the appropriate Account.
Click the "Video Call" button.
This will initiate a call to the touchscreen.
If the resident does not answer, users with administrator roles may force the touchscreen to answer remotely.
The Resident: Making a Video Call From the Touchscreen
The resident uses the "Video Call" button on the touchscreen to make a video call. The resident must then touch the name of the person they wish to call.
GC-01-OUM-0082, Rev B