Main Menu
From GrandCare Systems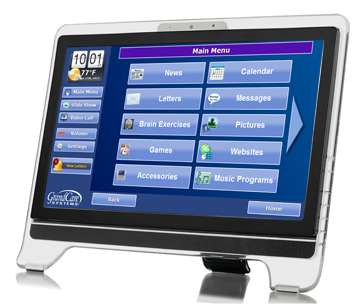 Overview
The buttons on the Main Menu give you access to most of the features of your GrandCare System. Just press a button with your fingertip to select a feature. You may see some differences between your screen and the picture, but those differences are purely cosmetic.
The Buttons
The buttons are listed here in alphabetical order. Press one to learn more about that feature.



Accessories - Fun or helpful little tools, such as a Calculator, and a simple Drawing tool.



Brain Exercises - Fun and challenging trivia and guessing games.



Calendar - Monthly or daily calendar for viewing appointments.



Caller ID - A record of your video callers and telephone callers.



CHF Assessment - Set of 5 questions about common Congestive Heart Failure symptoms.



Games - Interactive games to play on the Touchscreen.



Letters - Exchange electronic letters with your Caregivers.



Medication - View your medications.



Messages - Receive brief messages from your caregivers.


Music - Browse favorite music websites.



Music Programs - Senior-friendly streaming music programs, from a wide variety of time periods and genres.


News - The latest news headline, with links to complete news stories.



Pictures - Browse photos shared by family and caregivers.



Smart Home - View readings recorded by Smart Home devices, such as temperature sensors.



Videos - Browse favorite video websites.



Websites - Browse favorite websites.



Wellness - View your health readings, or take a health assessment.