GrandCare:Setting Up Your New System
Jump to navigation
Jump to search
| | |
| --- | --- |
| | Set up your touchscreen and power it on in Four Easy Steps |
Step 1 - Place the System
Place the GrandCare System in a location convenient to the resident.
Step 2 - Plug in the Adapter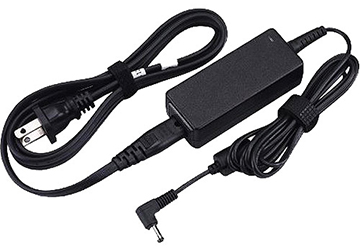 Follow the provided manufacturer's instructions to assemble the AC/DC adapter and the AC power cord. Plug the power cord into an electrical outlet.
Step 3 - Turn It On
Press and release the Power Button on the touchscreen. The system takes a few minutes to completely load and display the screen.
Important - This system should never be turned OFF. It is designed to run all the time, collecting sensor information, updating tables and graphs, and sending designated alerts. These things can only happen while the system is running.
Step 4 - Setup Wizard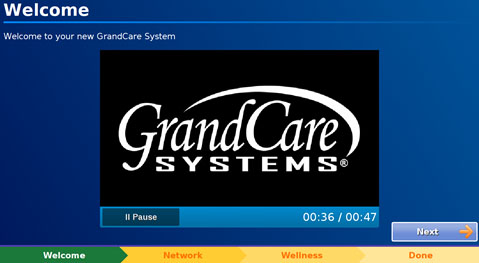 After starting up the system, the Setup Wizard will automatically guide you through connecting to the internet and adding health devices.
If the Wizard does not start:

Touch the Settings Button in the lower-left corner of the screen.
Enter the System PIN: 1111 and select System.
Touch Setup Wizard, then Yes.
Select Restart Touchscreen.
Related Information