Difference between revisions of "Obsolete Help For Caregivers"
From GrandCare Systems
---
Revision as of 20:32, 31 July 2013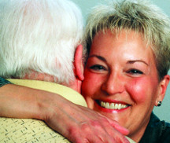 Use a standard Internet browser to go online and log in to your loved one's system to view activities, monitor vitals, send pictures and messages, designate rules, and more. Interact socially with your loved one who is using the Touchscreen system. Set up rules for activity sensors and health devices to send notifications when something is amiss. Customize the touchscreen system to help your loved one get the most out of the system.
Click on the links below to learn more about the system's many powerful and easy-to-use features.
Unobtrusive activity of daily living monitoring sensors or action buttons report wirelessly to the system located in the residence. Through the

Care Menu

, caregivers can

log in

to assess activity levels, pin-point specific problems, and determine alert rules.

Multiple choice questions answered by the loved one can help you know how things are going. Results can be viewed through the care portal, and are e-mailed to you and other caregivers.

You can send personal photos, videos, messages, emails, and set up appointment reminders for your loved one, or setup a Facebook feed with specified photo albums. One-button video chat (utilizing Skype) lets you easily connect the generations. Your loved one receives these communications on the touchscreen system.

Entertainment

Your loved one's system has many entertainment features, most of which don't require any setup by Caregivers.

Telehealth devices such as weight scale, pulse oximeter, glucometer and blood pressure monitor wirelessly record readings and store them on the system located in the residence. Through the

Care Menu

, family and health care providers can

log in

, view data, and set up rules.

The system can prompt your loved one when it is time take medications, with instructions and a picture of the exact medication to be taken, and can contact you or your loved one if medications haven't been accessed.

Caregivers can designate rules as to when and how to be notified about unusual activity in the residence. Rules can be set for activity sensors, health devices, medication compliance, and weather. Alerts can be in many forms, including phone calls, text messages, emails, and on-screen messages.

Safety Precautions and Instructions

Settings and Customizing

Admin-level caregivers can change settings on your loved one's system, for example what buttons are displayed on the menu and in what order, what types of content appears in the slide show, when the screen sleeps, as well as who can send email to your loved one, make video calls, and receive alerts.

Smart Home

You can monitor and set rules for safe home features on the system.




GC-01-OUM-0046 Rev A